Upcoming Concert
Sunday, February 3,  2018 at 4 p.m.
SONOS
Rachel Franklin, piano; Christian Tremblay, violin; Jonathan Miles Brown, bass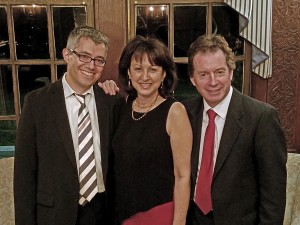 SONOS is Chamber Music with a Twist. Led by acclaimed pianist Rachel Franklin and featuring the consummate talents of violinist Christian Tremblay and fretless bass player Jonathan Miles Brown, SONOS is a unique classical and jazz ensemble that blurs the edges between classic chamber works and jazz improvisation. We are delighted SONOS is making their debut with the Odeon Chamber Music Series, and invite you to explore the fascinating connections between composers such as Gershwin and Ravel and improvisers like Monk and Mingus, all complemented by witty commentary and compelling stories. It will be a refreshing session you won't forget!  www.rachelfranklin.com
All concerts are held at Saint Patrick's Episcopal Church (3241 Brush Drive, Falls Church, VA 22042)
Concerts are fully funded by donations.  A donation of $20 helps us to defray costs, and will allow us to continue to provide fine concerts.
Join us for a wine and cheese reception to socialize with music fans and meet the artists.