Upcoming Concert
Sunday, September 9, 2018 at 4 p.m.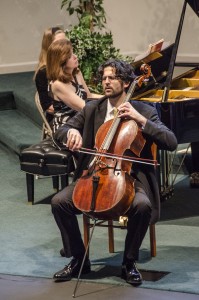 Don't miss this incredible season opener!  Amit Peled is BACK! With a talent to make a cello sing, renowned cellist, Amit Peled; and pianist, Noreen Polera will feature a program of their recent recording of Brahms' two cello sonatas titled: "To Brahms, with Love." Mr. Peled will perform with the 1733 Goffriller cello with which Pablo Casals made his famed performances. www.amitpeled.com
All concerts are held at Saint Patrick's Episcopal Church (3241 Brush Drive, Falls Church, VA 22042)
Concerts are fully funded by donations.  A donation of $20 helps us to defray costs, and will allow us to continue to provide fine concerts.
Join us for a wine and cheese reception to socialize with music fans and meet the artists.