Upcoming Concert
Sunday, June 2, 2019 at 4 p.m.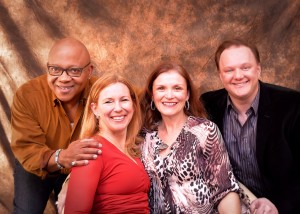 Join us for the afternoon of delightful singing! This fabulous vocal ensemble consists of Denise Gulley, soprano; Terri Malone, mezzo soprano Tim Augustin, tenor; Matthew Joe Minor, Bass-Baritone; members of the Washington National Opera Chorus. Original, vibrant, and sassy, Classical FX needs no special effects to grab and hold your attention. They surprise and delight every audience with a vocal performance that will perk up your ears and brighten your day. Their wide repertoire of music runs from familiar American folk songs, spirituals, Broadway, to European art songs, and opera. For this concert, they will sing familiar songs including American Standards AND a special look back at Woodstock in the summer of 1969! What a way to end the season and kick off your summer!
All concerts are held at Saint Patrick's Episcopal Church (3241 Brush Drive, Falls Church, VA 22042)
Concerts are fully funded by donations.  A donation of $20 helps us to defray costs, and will allow us to continue to provide fine concerts.
Join us for a wine and cheese reception to socialize with music fans and meet the artists.