Upcoming Concerts
Sunday, October 15, 2017 at 4 p.m. 
Sejoon Park, pianist

Sejoon is back!  He has astonished the Odeon audience with his brilliant technique and sensitive musicality several times. Currently an Artist Diploma candidate at the Peabody Institute, Sejoon is a multiple International competition winner.  Don't miss!
Program:
Sonata in A Major, Op.33, No.1/ Clementi
The Lark / M. Glinka/ M. Balakirev
Piano Sonata No.23 in F minor, Op.57, "Appassionata" / Beethoven
Études-Tableaux Op.33, No. 1~8 / Rachmaninoff
Fragilité, Op.51/3 & Sonata No.5, Op.53  / Scriabin
Consolation No.5 in E Major & Hungarian Rhapsody No. 10/ Liszt
Sunday, November 12, 2017 at 4 p.m.
Last Stand Quartet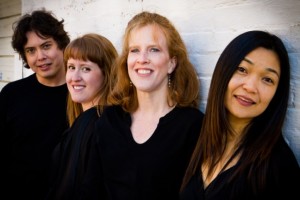 Last Stand Quartet is composed of prominent musicians from the National Symphony Orchestra: Joel Fuller & Alexandra Osborne, violins; Mahoko Eguchi, viola, and Rachel Young, cello. LSQ enjoys sharing passion for chamber music with their audience. Welcome back to Odeon!
Program:
String Quartet No.1, op.12 / Mendelssohn
Oblivion / Piazolla
String Quartet /No. 2, op. 17 / Bartok
All concerts are held at Saint Patrick's Episcopal Church (3241 Brush Drive, Falls Church, VA 22042)
Concerts are fully funded by donations.  A donation of $20 helps us to defray costs, and will allow us to continue to provide fine concerts.
Join us for a wine and cheese reception to socialize with music fans and meet the artists.