All concerts are held at Saint Patrick's Episcopal Church (3241 Brush Drive, Falls Church, VA 22042)
Concerts are fully funded by donations.  A donation of $20 helps us to defray costs, and will allow us to continue to provide fine concerts.
Join us for a wine and cheese reception to socialize with music fans and meet the artists.
Upcoming Concert
Sunday, April 2, 2017 at 4 p.m.
A Concert of Harmony – American Music to Inspire
Come enjoy amazing American music from many periods in our history. It's guaranteed to lift your spirits! Celebrate the soul of America in music!
Enjoy entrancing solos and harmony of "American Songs" from the Classical FX vocal ensemble!
Be fascinated and entertained with a "History of Jazz" performed by Washington area's prominent and extremely versatile jazz pianist, Wade Beach.
The concert will open with our local bluegrass band, Quantum String Therapy with bluegrass standards and bluegrass gospel.
Dancing Heart Ensemble (flute, trombone and piano) will also provide beautiful music by American composer, Eric Ewazen.
This event is Free to the public. No donation is requested and politics are not included.
Sunday, April 30, 2017 at 4 p.m.
Tekalli Duo
Suliman Tekalli, violin & Jamila Tekalli, piano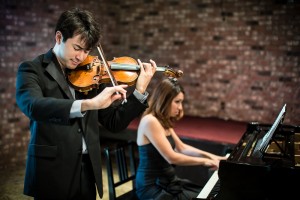 These siblings, both prize winning, prominent musicians, bonded by a profound musical connection, hold their listeners spellbound with talent and innovation.  Two years ago they dazzled our Odeon audience.  Welcome back!
Program:
Sonata K. 526 in A major / Mozart
Violin Sonata/ Elgar
"Jhula Jhule" / Reena Esmail
Violin Sonata /Claude Debussy
A selection of Tekalli Duo transcriptions
Tzigane / Ravel