2022 – 2023 Concert
Kostov-Du Duo (January 8, 2023)
Splendid concert performed by Lachezar Kostov, cellist and Wan-Chi Su, pianist last Sunday! Their selections of Schubert's Arpeggione Sonata, Schumann cello concerto, Franck's sonata for violin and piano arranged for cello, and Martinu's Variations on a theme by Rossini were all delightful and were played expressively and colorfully. Wonderful way to start the new year with such a tremendous performance! Wishing you all the best in the new year!
Daniel del Pino (November 20, 2022)   
What an astonishing concert! Daniel del Pino mesmerized the audience with entire sets of "Iberia" by Albeniz last Sunday. With his incredible artistry and technique, his music took us to the wonderful journey in Spain. We can't wait to hear you play again, Daniel!
"Essentially Gershwin" (October 2, 2022)
Alisha Coleman, clarinet; Rachel Franklin, piano; and Mariko Hiller, piano played a vibrant performance for the full house audience to kick off the 2022 – 2023 season! Alisha's solos on Debussy "Première Rhapsodie" and Gershwin's preludes were fantastic. Rachel and Mariko mesmerized the audience with  Gershwin's Concerto in F with great spirit.  "A Medley Tribute to Chick Corea" was well received by the audience. Audience participated clapping hands during Chick's famous piece,  "Spain" enthusiastically!  
2021-2022 Concerts
Classical FX Vocal Ensemble (June 19, 2022)

What a marvelous closer of our 22nd season! Classical FX delighted the almost full house audience with brilliant program and superb performance! Program started with memorable opera arias, then collections of spirituals to reflect the Juneteenth, ended the first half with Brahms' exquisite work, selections of Liebeslieder Waltzes. Second half started with lovely songs tribute to S. Sondheim and ended the program with jazzy arrangements of songs celebrating summer. Audience was engaged to the performance throughout with enthusiasm. They all stood up, moved, clapped hands for their encore of Aquarius from Hair! Our event ended with wine & cheese reception in the courtyard enjoying the beautiful weather.
Sara Daneshpour (June 5, 2022)
Sara Daneshpour's piano recital on Sunday, June 5th was astonishing! Her program consisted of all Chopin Etudes and selected works by Ligeti, two of the most demanding and fascinating piano repertoires. Ms. Daneshpour performed with profound artistry and dazzling technique. She totally captivated audience' attention throughout. What a great opportunity it was to hear this incredible artist in such intimate settings!
Trio Peridot (May 1, 2022)
Trio Perdot entertained us with energetic and exquisite performance with stunning ensemble. The program included Haydn trio in A major, works by Nabors and Tailleferre, and Dvořák's  monumental work, F minor trio.
Beau Soir Ensemble (January 23, 2022)
What a lovely afternoon of beautiful performance by the Beau Soir Ensemble! The program included works by Glinka, Rameau, Debussy, E. Angulo, and B. Babcock.  Debussy's sonata was especially mesmerizing.
Tekalli Duo (November 21, 2021)
What a joy having an "in person" indoor concert for the first time since February 2020! Tekalli Duo (Suliman Tekalli, violin & Jamila Tekalli Hanner, piano) has mesmerized the audience with their brilliant performance of Franck's sonata, "China Gates" by J. Adams, Suite for violin & piano by Still, Bill Evans' Waltz for Debby arranged by S. Tekalli, and West Side Story Suite arranged by S. Tekalli. This event was also live streamed. It was the very first live streamed concert of Odeon which was enjoyed by performers family and friends who live far, as well as Odeon fans. You can check out the concert here:
2020 – 2021 Concert
String Quartet with NSO Musicians (May 2, 2021)
   
Since the Pandemic lockdown in March 2020, Odeon closed the door for a long time.  We hosted this concert outdoors in the church courtyard.  The concert was presented by musicians of the National Symphony Orchestra; Joel Fuller, Derek Powell, violins; Mahoko Eguchi, viola; and Rachel Young, cello. The weather was gorgeous so as the music of Janáček and Beethoven, and the performance! Many audience said that this is the first live concert they attended after the pandemic started! It truly was a very special afternoon!
2019 – 2020 Concerts
Alon Goldstein (February 23, 2020)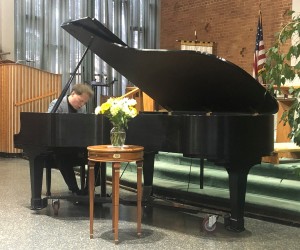 Astonishing performance by Alon Goldstein!  Audience were mesmerized by his beautiful tones, rhythmic energy, and artistry. His program was exquisite with Bach's Overture in French Style in B minor, Beethoven's Moonlight sonata, selected pieces of Schubert's impromptus and Debussy's preludes, and Ginastera's Argentinean Dances. Thank you Alon for sharing your beautiful world of music!
 Vyacheslav Gryaznov (January 12, 2020)
  
Vyacheslav Gryaznov totally mesmerized the audience yesterday. He opened his program with his beautiful transcription of Grieg's selections from Peer Gynt. Bach's English Suite No.2 was remarkable, Debussy's Suite Bergamasque was lyrical and gorgeous; and Liszt's Mephisto Waltz was phenomenal. He also treated us with 3 encores of music by Rachmaninoff and Chopin. He not only saved us from canceled concert, he brought tremendous joy to the audience. We can't thank you enough, Slava!
Washington Saxophone Quartet (November 17, 2019)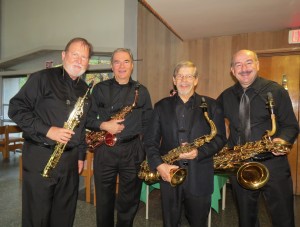 Fantastic performance by the Washington Saxophone Quartet last night! Their superb ensemble, virtuosity, and delightful repertoire entertained the audience entirely. It is also enjoyable to hear commentary by WETA broadcaster, Rich Kleinfeldt.
Rachel Naomi Kudo (October 30, 2019)
It was an astonishing performance and program by Rachel Naomi Kudo last Sunday! Her brilliant technique and artistry took our audience on a wonderful journey of music. Beethoven's Diabelli variations were especially incredible! This master work, almost an hour long, is rarely played; so to hear it performed was an fantastic treat. What an opportunity to be able to hear this music by such a remarkable pianist! Thank you, Rachel!
Daniel del Pino, pianist (September 29, 2019)
Bravo to Daniel del Pino for his dazzling performance of Albeniz and Liszt! His artistry and brilliant technique was just stunning! Daniel provided a remarkable opening for Odeon's 20th season and we thanked him with a roaring standing ovation. Daniel is one of our favorite pianists, and has performed for Odeon many times. The Champagne Reception was very enjoyable with an appreciative and friendly audience. We look forward to more time together with other wonderful musicians and music admirers this season!
2018 – 2019 Concerts
Classical FX Vocal Quartet (June 2, 2019)
What a marvelous performance by the Classical FX vocal quartet and their instrumentalists! From Opera, Broadway, Spirituals, to 20th century American standards, their repertoire is versatile. When celebrating the 50th anniversary of Woodstock, their harmonies brought a nostalgic tear to the audience. FX entertained us with superb ensembles and operatic acting that delivered almost as much emotional impact as their voices. If you missed this, don't miss when they are back next time!
Sara Daneshpour (April 28, 2019)
Sara Daneshpour evoked the piano with sounds nobody has ever heard before. She completely astonished the audience with her virtuosity and artistry. Her performance on works by J.S. Bach, Haydn, Chopin, Rachmaninoff, Tchaikovsky were beyond stunning. Her Prokofiev' Sonata No. 8 took everyone's breath away. What a treat it was to hear her in this intimate venue!
Flutes Fatale (March 3, 2019)
Outstanding concert by Flutes Fatale last Sunday! They absolutely mesmerized the audience with their polished ensemble and enjoyable repertoires! It was fascinating to hear variety of styles of music; classical, African, Gaelic, and jazz, all composed by women. It was also a wonderful opportunity to hear all common flute family; piccolo, C flute, alto flute, bass flute! Bravo to Karen Johnsonfor organizing such stunning concert!
SONOS (February 3, 2019)
SONOS fascinated the audience with their entertaining program and superb performance of "Paris:The Crazy Years". The program included works by Debussy, Ravel, Satie, T. Monk, Stravinsky, C. Porter, and Gershwin. Their witty and informative comments also grabbed audience' attention.
Makoto Nakura (November 11, 2018)
Makoto's profound and beautiful interpretation of selections of J.S. Bach and other works took audience to wonderful journey of music. Benjamin Boyle's composition; "Variations on a Bach Chorale for solo marimba" is truly a masterpiece.  His final selection of "Suite from West Side Story" with Mariko Hiller, piano, was also splendid. This is Makoto's 5th appearance with the Odeon. We look forward to his another concert very soon!
Marianna Prjevalskaya (September 30, 2018)
 Marianna Prjevalskaya mesmerized the audience with her poetic and artistic performance of Debussy's complete preludes.  Her encores of Chopin's Mazurkas also touched everyone's heart. We already can't wait to hear her again!
Amit Peled & Noreen Polera (September 9, 2018)
Amazing opening concert of Odeon's 19th season with full house audience with gorgeous music and performance! Amit Peled and Noreen Polera mesmerized the audience with all Brahms program. Pablo Casals' cello filled the hall with such rich and beautiful sound. Amit & Noreen's artistry was breathtaking.
2017 – 2018 Concerts
Vivaldi Project (May 6, 2018)
What a delightful performance brought by the Vivaldi Project strings ensemble! Anne Trout's newly restored 5-strng "Delmas' Maggini" bass was fascinating. Their ensemble was superb. We enjoyed their selections of baroque and classical repertoires such as J.S. Bach, Dragonetti, Veracini, Stradella, Rameau, and Eccles. This concert concluded our 18th season of the Odeon Chamber Music Series. Thank you to all performers and audience who brought memorable time.
Alon Goldstein piano recital (April 8, 2018)
Alon Goldstein totally mesmerized the audience again! Beautiful playing and interpretation on Scarlatti Sonatas, Schubert' magnificent "Wanderer", Liszt's "Paraphrase on Miserere" and Debussy selections. His short demonstration on Scarlatti's Sonata on harpsichord fascinated the audience as well.
Kostov & Valkov Duo (February 11, 2018)
Bravo to Kostov Valkov Duo! They mesmerized the audience with their strong ensemble, profound artistry and virtuosity with their beautiful selections of Schubert, Rossini, Boccherini, and Beethoven. Thank you for sharing your deep musical inspiration with us!
Mixed Company (flute, basson & harp trio)  (January 21, 2018)
Mixed Company, Carole Bean, flute; Maude Fish, bassoon, and Michell Lundy, harp,  presented a wonderful concert with exquisite program of Debussy, Piazolla, 16th Century Italian Lute pieces, and more. Audience was mesmerized with this unique combination of ensemble and beautiful performance.
Last Stand Quartet with Efi Hackmay, piano (November 12, 2017)
Last Stand Quartet, Alexandra Osborne, violin; Mahoko Eguchi, viola, and Rachel Young, cello; and their special guest, Efi Hackmay, piano mesmerized the Odeon audience with their superb performance with their beautiful program of F minor piano trio by Dvorak, Libertango by Piazolla, and Piano Quartet in G minor by Mozart.  Thank you for the beautiful music!
Marianna Prjevalskaya, pianist (October 15, 2017)

Bravo and thank you to Marianna Prjevalskaya for her artistic and passionate performance yesterday with her beautiful program on Chopin, Beethoven, Brahms and Debussy. Audience was totally mesmerized! Sejoon, we wish you a quick recovery from your injury. Thank you again for Marianna for step in with such a short notice. We look forward to hearing you again soon!
Spirito Piano Duo (September 17, 2017)
Mariko Hiller & Victoria Wyatt; pianists
Wonderful opener of the Odeon's 18th season! Spirito Piano Duo pleased the full house audience with spirited performance and beautiful selections. "Symphonic Dances from the West Side Story" especially moved the audience.
2016 – 2017 Concerts
Rachel Naomi Kudo, pianist (May 14, 2017)
Rachel, thank you for the wonderful closer of the season! Rachel Kudo delighted the audience with her stunning technique and superb interpretation of music with her program of J.S. Bach' French Overture BWV831, Barber's Sonata Op.26, and Beethoven's Sonata No.18 and magnificent Sonata No.32 and more.
Tekalli Duo (April 30, 2017)
Suliman Tekalli, violin & Jamila Tekalli, piano
Bravo to Tekalli Duo! Beautiful program of Mozart, Prokofiev, Esmail, Debussy, Granados, and Ravel; and stunning ensemble and artistry! Thank you for your inspiration!
A Concert of Harmony : American Music to Inspire (April 2, 2017)
What a celebration of souls of America with full house audience! The concert will open with our local bluegrass band, Quantum String Therapy with bluegrass standards and bluegrass gospel.  Audience was fascinated with a "History of Jazz" performed by  jazz pianist, Wade Beach. His dazzling fingers astonished the audience. Dancing Heart Ensemble (flute, trombone and piano) presented beautiful music by American composer, Ewazen and Copland.  Concert closed with a beautiful harmony of "American Songs" by the Classical FX vocal ensemble. Thank you to the performers for sharing your gift of music and time.  
Dancing Heart (February 12, 2017)
Dancing Heart Ensemble captivated the audience with their delightful program titled "Bach'n'Roll, a Tribute to J. Reilly Lewis."
Classical FX (January 22, 2017)
What a delightful afternoon of music! From exquisite opera arias to American folk songs and Broadway, their beautiful voices and wonderful selections of music mesmerized the audience throughout the concert!
Sara Daneshpour (November 13, 2016)
 Absolutely astonishing performance by Sara Daneshpour this afternoon! Her interpretation on each work, Rameau, Ravel, Chopin, Rachmaninoff, was so precise and beautiful. Sara, thank you for sharing your artistry!
 
Washington Saxophone Quartet (October 16, 2016)
Fabulous performance by the Washington Saxophone Quartet last Sunday! What a great program and superb performance. We loved every selections!
Attacca Quartet (September 25, 2016)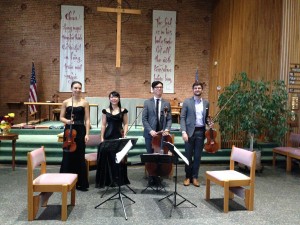 Incredible afternoon of great music of Beethoven and amazing performance! Their artistry, passion, and technique mesmerized the audience completely.  Thank you for the fabulous opening of the 2016-17 season of the series, Attacca Quartet!
From 2015 – 2016 Concert:
Illuminare with Atsuko Watanabe (harpsichordist) (May 22, 2016)
Early music women't vocal ensembler, Illuminare, and Japanese harpsichordist Atsuko Watanabe presented music brimming with the passion and energy of the early seventeenth century.  Illuminare's beautiful singing and Atsuko Watanabe's exquisite harpsichord playing mesmerized the full-house audience. We also had a great time at the Champagne Reception to celebrate the end of Odeon's 2015 – 2016 season.
Quynh Nguyen, pianist (April 10, 2016)
Quynh surely astonished the audience with her brilliant and artistic performance!  We also enjoyed the beautiful program on Haydn, Beethoven, and Chopin.
The Tempest Trio (January 30, 2016)
The Tempest Trio fascinated the audience with their magnificent performance on Saturday afternoon. Both Bernstein and Dvorak trios were dramatic and artistic, and their individual solo pieces were engaging and masterful. What a pleasure to hear such world class performance in this intimate setting!
Emma Resmini, flute & Bora Lee, piano (January 10, 2016)
Bravo to Emma and Bora! What a marvelous performance and delightful program! They both showed their virtuosity and artistry, and mesmerized the audience. It was also wonderful to hear the World Premiere by Dutch composer René Samson, who was in attendance, It was a very special concert to start the New Year with full of splendid newer compositions!
Makoto Nakura, marimba (November 15, 2015)
Makoto did it again! He astonished the audience with his artistry, technique, and energy. He is truly a dedicated musician and inspiration. We already can't wait for his come back.
Peter Takács, piano (October 25, 2015)
Peter Takács delivered an astonishing All-Beethoven program.  It wove colors and emotion with a technique that Beethoven would have been very happy with.  After performing the monumental Waldstein Sonata with such grace and energy, he continued to pleased the audience with two beautiful encores.
Daniel del Pino, piano (September 27, 2015)
What an incredible opener for Odeon's 16th season! Daniel played his program of Mendelssohn, Franck, and Chopin with such exquisite rendition. We also enjoyed the Champagne reception to celebrate the opening of the new season. Thank you for those who attended the concert. Thank you for those who made contribution to help run the series.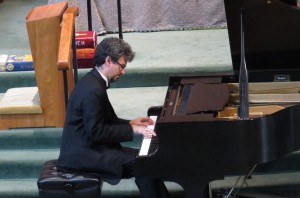 From 2014 – 2015 Concerts:
Attacca Quartet (May 17, 2015)
Wow, just wow! It couldn't be a better concert to end our 15th season of Odeon Chamber Music Series. Attacca Quartet dazed the audience with their precision, energy, musicality and tight ensemble. Program of works by Haydn, John Adams and Grieg was just gorgeous! Thank you for sharing your musical gift, Attacca Quartet!
Alon Goldstein, piano (May 10, 2015)
Alon Goldstein astonished the Odeon audience with his artistic vision of music and stunning virtuosity.  His insightful explanation of music with humorous comments provided an intimate connection to the audience .  His beautiful program consisted of music by Liszt, Dorman, Ginastera, and Piano Sonata in C minor by Schubert mesmerized the audience.
The Washington Saxophone Quartet (February 8, 2015)
Fabulous performance by Washington Saxophone Quartet this afternoon! Audience loved the wide variety of program, great musicality, sensitive voicing, and beautiful harmony. Rich Kleinfeldt's historical prospective and witty commentary on each piece also enriched the performance.
Ismar Gomes, cello & Wan-Chi Su, piano (January 11, 2015)
Bravo to Ismar and Wan-Chi for beautiful performance of music by Schumann, Britten, Beethoven and Brahms! Couldn't be a better way to start 2015 concerts.
Tekalli Duo, Sulliman & Jamila Tekalli (November 16, 2014)
The Tekalli Duo left Odeon's audience astonished with their interpretations and performance yesterday. The short 45-60 second introduction to each number set the audience's expectation for the emotional tone, allowing the power of the music to amplify and tweak the subtleties of the experience. Not a motion, word, note, or second was wasted; bringing the experience to life for us. They performed as if they were one being, facial expressions at times so identical that one knew they were living the same moment.
Classical FX, Vocal Quartet (October 26, 2014)
BRAVO to Classical FX vocal quartet yesterday! The quartet dazzled the audience throughout the concert with their beautiful voices and harmony. They received well-deserved standing ovation. We can't wait to hear you again already!
Brandon Ridenour & Rachel Kudo (September 28, 2014)
Bravo to Rachel and Brandon for their marvelous concert! What an amazing opening of Odeon's 15th season. Thank you for those who came to the concert. Thank you also for those who couldn't make it, but thinking of us. We are off to a great season!
Performers in Past Seasons:
Amit Peled, cello
Armonia Nova (ensemble of Medieval and Renaissance instruments and music)
Classical FX, vocal quartet
Di Wu, piano
Janice Martin, violin
Makoto Nakura, marimba
Myriam Avalos Teie, piano
Petronel Malan, piano
Quynh Nguyen, pianist
Sara Daneshpour, piano